Condolences & Tributes
We encourage you to share any memorable photos or stories about Joyce. All tributes placed on and purchased through this memorial website will remain on in perpetuity for future generations.
Jim & Sandy Brown
sent flowers to the family of Joyce Czepiel Pike.
Send Flowers
On behalf of Girl Scouts of Connecticut, we offer our condolences for the passing of your loved one, who was a sister in Girl Scouting. We offer you our sincerest thoughts and prayers during this difficult time. Sincerely, Mary Barneby, CEO
Mary Barneby
- Tuesday June 12, 2018 via Condolence Message
Jeff - Your mother is a terrific lady who I know will be missed dearly. I have so many terrific memories of your Mom from sleep overs to swimming in your pool and the endless times she fed us amazing food. I am very sorry for you and your families loss.
Dan and Alison Pape
- Monday April 30, 2018 via Donation
To: American Diabetes Assn. CT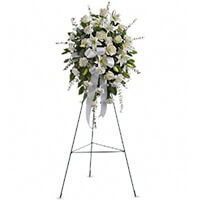 Miss Joyce, We have such fun memories with you and Chuck. We love you and we're going to miss you
Jim & Sandy Brown
- Sunday April 29, 2018 via Heartfelt Sympathies,
Order Now.